Single city card – URBANA
Urbanomat
What can I do at an Urbanomat?
An Urbanomat enables you to:
buy a new Urbana card;
top-up the value card with a credit amount;
top-up the time card with a monthly ticket and/or credit amount;
check the card balance and print it out;
extend the subsidised monthly tickets.
The user interacts with an Urbanomat via its touch screen. Buttons for selecting the procedures appear on the screen and the user touches them with their finger.
How do I pay at an Urbanomat?
with banknotes of €5, €10, €20 and €50
with €1 and €2 coins
with cents (€0.05, €0.10, €0.20 and €0.50) not exceeding €10 in total (this restriction is due to technical limitations of Urbanomat)
with payment and credit cards: Diners, BA Maestro and MasterCard
using the Moneta mobile phone application
The minimum amount of credit at an Urbanomat is €1 and the maximum is €50.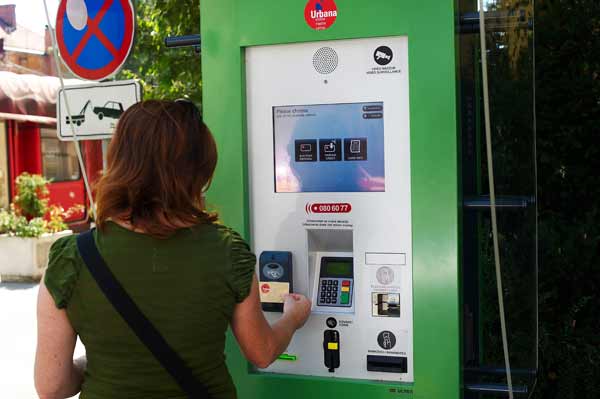 Urbanomat
Urbanomats do not return change
If you insert more money than required when paying for a monthly ticket at Urbanomat or buying a new Urbana card, the surplus amount is added to the selected card as a credit.
Depending on the type of card, you can use the credit to pay for a ride or a monthly ticket for the next month, to pay for a ride for another person or to pay for other services included in the single city card system.
If you do not want to add credit to the card in this way, prepare the exact amount when buying a card or topping it up.
Error in recording
If an error occurs while Urbanomat records the credit amount or monthly ticket on the card, please inform the Call Centre on the following number: 080 60 77, also specifying the ID number of your card.
Files

Navodila za uporabo Urbanomatov
[pdf | 904,7 KB]
Dostopne oblike dokumentov so namenjene osebam z oviranostmi.
Polje označeno z * je obvezno.